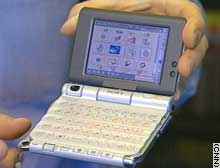 Sony's PEG-UX50 has a camera and a flip-up screen that swivels.
My spin: There's many PDAs that are "cool" and many that are pricey, but it's important to get the one that's useful for YOU and within your budget. I've tried out Sony's little gizmo, it's sure "cool" and "cute" but practical and functional, I don't think so. But a Circuit City sales rep told me it was selling well.
Personal digital assistants are almost as common as cellular phones, and with so many models of these mobile devices, companies are packing them with extra features hoping to set themselves apart from the competition.
(full story)
The following two tabs change content below.
Latest posts by Ramon Ray (see all)