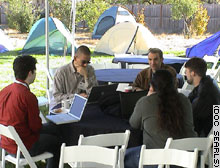 My spin: What an excellent venue 😉 I think networking events are great and having a wonderful venue is a major factor in making it a success. Camping with like minded folk – sounds good to me.
Stashed away in the rolling hills north of San Francisco, the town of Sebastopol, California, used to be remarkable for two things: Gravenstein apples (it was once the world's largest producer) and the Russian River appellation (excellent zinfandels).
You can now add a third important growth industry whose roots are there: Foo Camp, a new breed of geek gathering organized (somewhat) by O'Reilly & Associates, a thriving technology publishing business. (full story)
The following two tabs change content below.
Latest posts by Ramon Ray (see all)