Today while I was at lunch, Kentucky Fried Chicken (I would have preferred Poppey's) I saw two guys with two cell phones / PDA gadgets. Both had Treo 300's (one had 2) and the other had a Motorola phone also.
I was interested in how they were using the technology and here's the scoop.
1. Their Handspring Treo 600 crashes often – many fatal exception errors
2. They can connect to their back office database, on their phones with an Oracle application. But the Oracle application does not always work correctly
3. They have never been a "paper" company but have always been hi-tech and before the Treo's used RIM's Blackberry and before the RIM's they had UPS like gadgets.
4. They liked the Blackberry's a lot and wished that management would never have switched their hardware. The Blackberry's were much easier to work with (better keyboard and input for one) and reception was better. Management says that with the Treo/Oracle combination, the on the street techs can get more customer information. Guess what – the techs do not need more information. The techs would simply have suggested that management upgrade their Blackberry's two the new ones now out.
5. It took about 1 minute to close a job order with the Blackberry but about 20 minutes with the Handspring Treo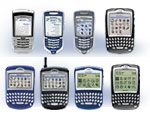 SUMMARY Management in an ivory tower, dictating to the guys and gals on the street (the "ants" as the tech's said – how they should do their job. Management should have taken input from their on the street techs BEFORE spending millions on new technology.
What does management say? We spent millions on this technology, it better work.
The following two tabs change content below.
Latest posts by Ramon Ray (see all)