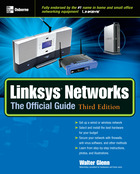 If you want help building a network especially using Linksys networking gear then check out McGraw-Hill/Osborne's latest book: Linksys(R) Networks: The Official Guide 3e
"The third edition of Linksys Networks: The Official Guide is a great resource for our customers who want to do more with their network," said Mike Wagner, Linksys director of worldwide marketing. "The information is thorough, easy to understand, and extremely helpful."
Written by a networking insider who has authored more than 20 books, this fully updated Third Edition details everything someone needs to know about selecting the right hardware and components, installing a network, connecting to the Internet, implementing security measures, and troubleshooting. Readers will also learn how to share resources between computers, including Internet access, data, music, games, and much more.
"Linksys(R), a division of Cisco Systems, Inc., is the number one name in home and small office networking equipment. This official guide is essential for anyone in the home or office who is interested in networking their PCs," said Scott Grillo, vice president and publisher of McGraw-Hill's Professional Group. "The new Third Edition is a major revision with 50 percent of the content new or updated to reflect the latest technologies," added Grillo.
Linksys(R) Networks: The Official Guide 3e is authored by Walter Glenn, a consultant, trainer, and author who has helped dozens of companies and home users set up networks. The 420 page, 7 3/8 x 9 1/4 paperback includes 150 illustrations and features up-to-date coverage of 802.11g devices; Voice over IP, the latest information on WPA, WEP, and Windows XP Service Pack 2; and much more.
The following two tabs change content below.
Latest posts by Ramon Ray (see all)