Receiving customer emails is great, but the problem is that as the email load grows it becomes very difficult to centralize and manage the incoming email and the replies.
As a very small company with one or two persons handling customer service via email, this process is not very difficult, but as your company grows you'll get MORE emails and MORE staff. Customers are bound to get frustrated as your response to their inbound emails gets slower and slower and more confused.
Elementool has a low cost, web based solution that can quickly help you manage your customer service or other email centric services.
Elementool's web based help desk tool enables you to store all the messages received from and sent to your customers in a database in your account, track and view the correspondence history of each message and assign tasks to your team members. It allows your customer support team to generate reports and fully customize your account according to your special needs. There is no need to download or install any software. The tool is available for use immediately.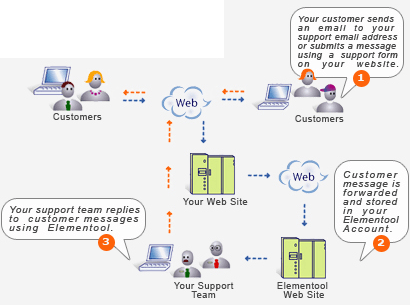 1. No software is required –
with elementool there is no need to install or purchase any software or hardware. Elementool hosts all the applications you need on its website. By using elementool you are freed from installing database server, web server or client applications. The setup of your account takes only 30 seconds.
2. Web based –
elementool is fully web based, and accessible from any place in the world using only a browser.
3. Unlimited users –
you may list as many users as you wish to your elementool account, with no limitation.
4. Rent –
elementool offers its applications for rent. You may stop using elementool at any time, with no obligation. Once your project is finished you simply close your account.
5. Always updated –
elementool constantly upgrade and update its website and applications according to our customers' requests and needs. We ensure that you always use the latest and most updated version of our product.
6. Fully customizable –
elementool is a fully customizable system, which enables you to fit the forms and reports to your specific needs.
The following two tabs change content below.
Latest posts by Ramon Ray (see all)