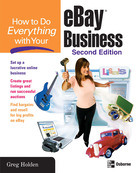 I recently received a copy of "How to Do Everything with Your eBay Business", second edition, by Greg Holden and published by McGraw Hill Osborne.
Like any good journalist I was VERY skeptical of the claim, "how to do everything" but after reading through the book, I must say there's nothing left out of this book. It's 470 pages are perfect for the beginner or for the long time eBay seller.
More on this in a minute – for now let's turn to eBay.
eBay is one of the largest places where buyers and sellers can find each other. Where buyers can find just about anything for a bargain (or at times for a higher price as the bidding and auction frenzy get heated up). eBay is large virtual mall for sellers to hawk their wares to a large audience.
But everything is not perfect at eBay. The Wall Street Journal's 22 June 2005 edition writes In 2002, John Wieber started worrying about his business, which sold refurbished computers through Internet auctioneer eBay Inc. Although he was earning $1 million a year in revenue, profits had started to slip as competitors flocked to the site. EBay also raised its fees, further cutting margins, and fraud was becoming a problem.
So Mr. Wieber revamped his Web site and began selling through other online companies, such as Amazon.com Inc. and Yahoo Inc. Last year, his sales neared $5 million, but his eBay revenue grew at a much slower pace, making up only a quarter of the total. It will likely fall still lower. Of the auction site, where he got his start, Mr. Wieber says: "Too many sellers, not enough buyers."
EBay, with more than 147 million users world-wide, has long been regarded as the dot-com survivor that could do no wrong. Mr. Wieber's story shows why the company may be losing some of that luster. Setting up an online store is so easy these days that sellers needn't rely on eBay as a source of customers. Advertising is simple and inexpensive, thanks to new technology from companies such as Google Inc. And multiple competitors, including Amazon and Yahoo, are pulling once- loyal eBay sellers into their orbit.
While eBay is still a very good selling and buying tool for many businesses, it is becoming so crowded, eBay is charging more, customer service has not been that great, there is other competition (such as Overstock.om, Amazon.com) and smart businesses are realizing that they can directly sell their wares from their own web sites.
For those with their own retail web sites, Google and Overture, for example, with their pay per click services, offer low cost ways to attract sellers directly to your web site – bypassing eBay completely.
WSJ writes Last October, at a conference of eBay sellers in Las Vegas, Mr. Wieber talked briefly with Sam Wheeler, Amazon's director of North America sales and marketplace. Two weeks later, a colleague of Mr. Wheeler called. "I almost fell off my chair," Mr. Wieber recalls. Aside from an occasional call pitching new services, no one from eBay had ever called to ask about his business, Mr. Wieber says.
Three Amazon employees spent two months helping the businessmen create a special numbering system that would allow them to sell on Amazon. Sales are small but are increasing roughly 50% a month. Mr. Wieber says Amazon sales are twice as profitable as eBay sales.
I don't want to discourage you from selling on eBay, as there are many businesses that are quite successful at selling, but I do want you to know that there is more to life than eBay.
If you do want to seriously sell on eBay you must buy a copy of "How to Do Everything with Your eBay Business". This book gives you the specifics of setting up an eBay store and also dives into the details of PRESENTING your wares for sales, helping you SHIP your goods properly, making sure you have legal worry free selling and so much more.
The following two tabs change content below.
Latest posts by Ramon Ray (see all)