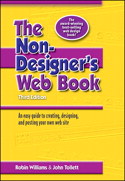 Two book publishers O'Reilly and Peachpit Press sent me two of their latest books, "The Non-Designer's Web Book" by Robin Williams and John Tollett and "Creating Web Sites: The Missing Manual" by Matthew MacDonald.
Both books are full of great information that will help you build a web site, but I'd suggest you buy "The Non-Designer's Web Book" as it's easier to read and is more focused on aspects of building your web site. "Creating Web Sites" has sections on making money with your site, creating a community on your web site and attracting visitors. While these topics are useful, it would be better to look for other books that focus more on these topics specifically.
"The Non-Designer's Web Book" section on how to recognize good and bad design will help you know how to design your web site so it looks GREAT.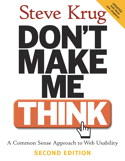 The other book (also from Peach Pit Press) that I HIGHLY recommend you get, if you want to have your web site really looking its best is Steve Krug's "Don't Make Me Think". This book, written by a web site usability expert will give you the ins and outs of GREAT web site DESIGN. He'll show you sites with poor design, with ok design and with GREAT design!
If you want to ensure your customers, audience and others are doing the action on YOUR web site that you want them to, the "Don't Make Me Think" is truly a must read. I'll be referring to it often for Smallbiztechnolgy.com!
At the upcoming Small Business Technology Summit in New York Amazon.com's web services guru will speak about how to BOOST your web site and make it a powerful tool. More than just a brochure!
The following two tabs change content below.
Latest posts by Ramon Ray (see all)