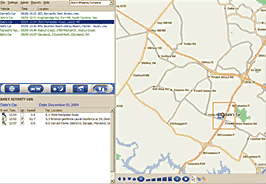 In many industries, a company's staff are spread all over a city, a state or the entire country. Home nursing, real estate agents, building contractors, messengers and so many others – all of these professionals work for companies but most often serve their customers outside of the office.
The headache for the office managers is how to manage the employees, the customers, the billing, the time spent on work and etc.
Verizon Wireless has a solution, Field Force Manager that provides a quick and economical way for a business to quickly manage a distributed sales force.
Using a paper based system (maybe a few Excel spreadsheets) is ok if you are managing only a VERY few employees and customers. But hopefully your business is growing! If so, in order to effectively compete and manage your growth you are going to have to leverage a technology solution.
Verizon's Field Force Manager, is a mobile resource management tool that enhances information and process flow between field workers and the office. By using a Location Based Services-enabled (LBS) handset, a handset application, and a Web portal, Field Force Manager is ideal for small and medium-sized businesses that require a simple, out-of-the-box solution to help streamline field operations.
The Field Force Manager Web-based application allows the business office to map the location of field workers, jobs and other activities in near real-time, schedule and dispatch jobs and receive fleet, job and worker reports. Additionally, the application allows field workers to submit timecards, as well as customer and job data back to the business office and get turn-by-turn driving directions to new jobs right from their wireless device.
Field Force Manager is available from Verizon Wireless in two packages: Basic for $29.99 that includes worker location and tracking, simple job dispatch, and text-based driving directions; and Advanced for $49.99, which includes all the Basic features plus workflow management and audible turn-by-turn driving directions. Both packages include the handset application and Web portal access, deployment assistance, customer training, and unlimited data transport. Customers must also have a Verizon Wireless calling plan.
Using a service like Field Force Manager is only a START the best way to get the POWER from such a tool is to work with a local consultant who specializes in the mobile applications for field staff and have them customize an "out of box" solution that is perfect for your needs.
The following two tabs change content below.
Latest posts by Ramon Ray (see all)