Your web site has logs that tell you a lot of information about the traffic to your web site. This information is SO IMPORTANT as you can reap valuable intelligence and find out who your audience is and what parts of your web site they are interested in.
For example, are your customers mainly from the West Coast (but you are in North Carolina)? Are they mainly interested in your page selling sandals, but you are putting flip-flops on sale? Do you have a significant number of online visitors coming from England?
If your web analysis tool is saying, yes, to these questions you might have an opportunity to sell more product to more customers and target your current marketing more effectively. Maybe your online data is showing that you should consider creating a physical retail store…in England? This is the good part of web analysis.
The "bad part" is that there are so many web analysis tools on the market, what you get from your ISP, what you can get for free and fee based web analysis tools. Some small business owners, can't even access their web analysis tools as for some reason it's locked behind some complex coding (that's only available to your IT person) and can't be easily analyzed by end users.

Tina Bean, Director of Sales and Marketing for web site analysis company VisiStat told me that when small businesses see the rich features and tools VisiStat offers, it's like the difference between DOS (remember the black and white, text based command line) and the first Apple interface. Or in my case, moving from DOS to
Windows 3.1 – what a difference!
While web analysis is important for your IT consultant, IT department or "guy/gal" to know how much traffic is hitting your web site so they can determine if you need more space or bandwidth, it is also very important for your marketing and sales
team to know the web analysis details to help them sell more and more effectively. By knowing more about your customers (peak shopping times for example), understanding most frequented and least frequented web pages, your team can better target their marketing and sales.
Tina's data finds that many VisiStat customers check their VisiStat web logs 9 times per day. It helps that VisiStat sends them a daily email alert as well. "StatCaster" is a small window which showcases your web analysis statistics throughout the day, right on your desktop. Newly launched in StatCaster is a running, real-time account of what visitors are doing, page by page, while they¬?re on your site.
VisiStat offers other products (add-on modules) which include:
Page Alarm, for an additional $5 / month, alerts you if your web site goes down. If your company's reputation (brand) or income is related to your web site (as it is with many companies) this feature could be VERY important for you. You could have one of your staff members check your web site every day, but if it goes down after they've checked it, you'll start to have customers, partners or prospective customers call you about your web site being down – and that's not a good thing.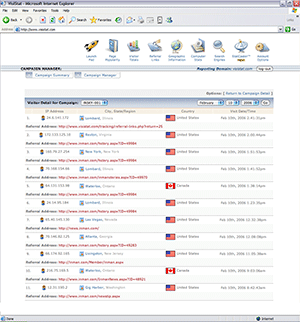 AdCaM, is VisiStat's advertising campaign manager to help you manage keyword (pay per click) campaigns, press releases, or whatever you like – from one interface. It's 3 step wizard creates a custom landing page (this is so important whenoptimizingg search engines) for your keywords. This feature is an additional $9.95 a month.
Whether you use VisiStat or some other program, it is IMPORTANT that you understand the IMPORTANCE of analyzing your web traffic, especially if you are spending money advertising online. If you are spending $500 advertising online, you expect that a certain portion is "wasted" and that a certain portion is indeed making sales. Isn't it nice to know WHICH portion is making the sales so you can better target your campaignn there? Even if you are advertising offline (radio? printt?) you can put unique URLs into your advertising so you can know which advertising is pulling in which traffic.
For example, through geographic "mapping" reports, TicketsByInternet.com (one of VisiStat's customers) is able to pinpoint zip codes and target advertising to logical locations and regions. In retailing, as in real estate, it's all about location. For TicketsByInternet.com, VisiStat's mapping feature is very valuable to see where in the U.S. their traffic is coming from, allowing them to adjust their PPC keywords to concentrate on the zip codes that are generating the most visits.
VisiStat starts at $19.95/month for 25,000 page views per month. There's a 30% discount if you purchase an annual package. If you have more than 500,000 page views per month sign up for VisiStat's corporate or high-volume plan.
Of course, there's a FULL featured seven day free trial so try it out, before your buy.
Read more on web analysis here and here.
The following two tabs change content below.
Latest posts by Ramon Ray (see all)