SMB Nation is off to a great start. It started on Friday but I was only able to start attending Saturday and will back East on Sunday.
At SMB Nation 2006, the nearly 800 small business solution providers are excited, diverse and hopelessly hooked on technology.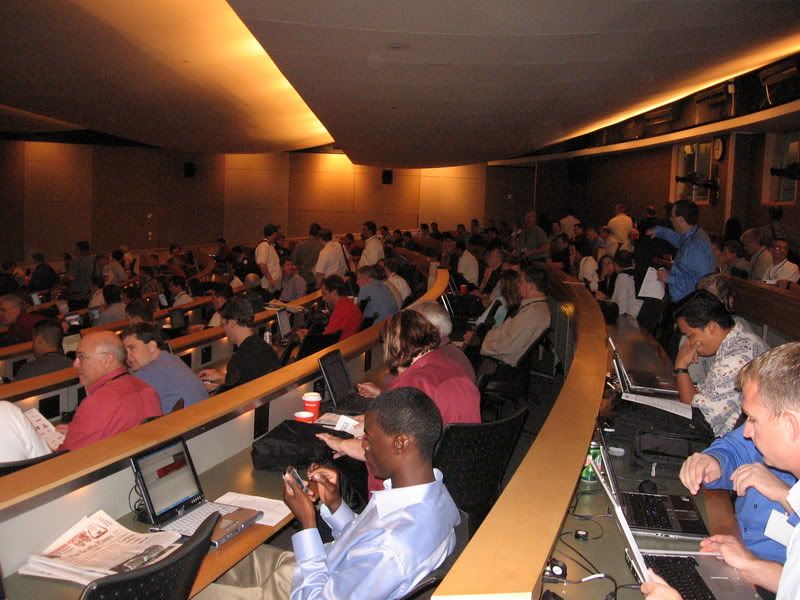 SMB Nation is the premiere event for small business solution providers, who are selling Microsoft's Small Business Server. At SMB Nation, solution providers can learn about technology and/or about the "business" of consulting.
I learned quite a bit from the many consultants I spoke to today.
Overall, the small business consulting business is made up of guys (yeah – I mean males) who are working solo, are not looking to grow their business in customer size, but want to make a decent living.
Some of the solution providers work full time jobs, one (I'm sure there was more) is in the Military Reserves in fact.
George Vinsen is a solution provider based in Atlanta, Georgia who has been working with computers since the "punch card" days. He worked for years with big companies, Fortune 50, but after the "Year 2000 scare" he moved into selling to small businesses and is now selling Small Business Server.
Raphael Zagha, who knows George and is also based in Atlanta, finds that he's selling Small Business Server (SBS) to small businesses who are NOT technologically savvy. He's able to start with them on the ground floor and watch them grow.


George and Raphael
Jon Hokana, based in Hawaii works for a larger consulting company that is moving into selling small business server. This is his first attendance at SMBNation and he's here to learn how to better sell Small Business Server.
Michael Reinhart (below) shared with me that he has not yet started his consulting business but is getting into it from programming and software development. He wants to make a difference in the lives of small business owners and help them understand that they can get MORE work done through smarter uses of technology.


Scott Scrogin, of Network Management Group, based in Kansas does consulting and works with state officials and a training company to offer 'continuing professional education' credits to CPAs.
Right before Harry Brelsford, President, SMBNation gave his keynote I met Lynnette Eastlake, a Microsoft Community Engagement Marketing Manager. Her job like the several dozen other community managers around the country is to make sure that Microsoft partners are engaged and committed to selling Small Business Service and its related components.


Scott and Lynnette
Eric Ligman, Microsoft, US Senior Manager of Small Business Community Engagement and Ramon Ray at SMB Nation 2006.

The following two tabs change content below.
Latest posts by Ramon Ray (see all)