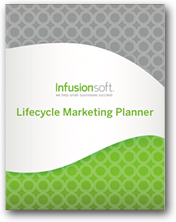 Lifecycle Marketing, taught by Infusionsoft is about a few key principles.
It's about not survival marketing but Lifecycle marketing.
It's about having a SYSTEM and PROCESSES in place to work on your business and not IN your business.
Like what Michael Gerber's eMyth book teaches.
Infusionsoft gives a nice workbook full of insight.
Infusionsoft has a FREE Small Business Success Club you can join and more.
Heck you can even ask Ramon (that's me) to present a one – three hour workshop (as long as you like) to your group!
Want a copy of the free work book? Want to join our Small Business Success Club? Just email me.
The presentation slide deck is below and here